When good sleep matters most!
Our mattresses are designed to give children the best possible sleeping conditions.

The extremely high breathability and ergonomic sleeping comfort ensure that the child lays comfortably and don´t get too hot when sleeping. Therefore, most parents will experience that their child extend the coherent sleep by up to 100%!

Silicone foam is allergy friendly and inhibits the occurance of dust mites.
The don´t such water and fluids passes effortlessly through it. Therefore, you can wash the mattresses at high temperatures when accident occurs.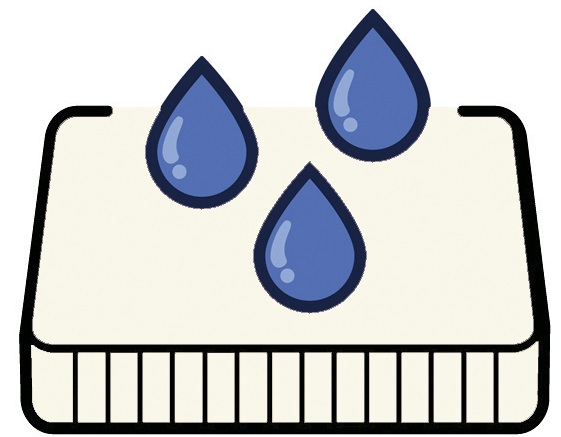 ---
Test
We have performed a test to prove the difference between a regular mattress and a Baby Cloud mattress. The test was performed on two random children in a nursery. For the first week, they both slept on a Baby Cloud mattress, after which they slept for a week on their usual mattresses. During the test period, the nursery workers kept track of all relevant temperatures and a careful record of how long they slept. Even though it was significantly warmer in the first week, where they slept on a Baby Cloud mattress, the children still slept noticeably longer!
---
Recommendations
"Previously my daughter slept less than 45 min during daytime nap in her baby carriage. But after she started sleeping on her new mattress, she sleeps 1.5 hours +. I am convinced that it is due to her new mattress, so thank you for that."

– Heidi Scharff Hansen
"I would like to recommend Baby Cloud's toddler pillow, who one and a half year old Alma has used for 2 months during her daytime nap. She now has a more quiet and comfortable nap, and it has increased the coherent sleep from one and a half hour to approximately 3 hours. The pillow is sweat absorbent, cool and comfortably soft."

– Daycarer Lone Andreasen
"Our son have ben given a fantastic carrycot mattress, which we want to give our highest recommendations. It is of the highest quality and since our son tend to get ver yhot when sleeping, the high breathability does a huge difference."

– Mette Brandt Andersen
---
A healthier and better alternative!